Welcome to the Clown Store!
From T-shirts & mugs to clocks & mouse pads, find gifts with unique graphics in our clown store! Be sure to stop in often to see new designs and discounts!
Watch for great gift ideas here:
Imagine finding the perfect gift for that certain someone who is soooo difficult to shop for...
Imagine a store that does its best to provide the exact design you request!
Imagine discount coupons to help you save money...
Imagine the All About Clowns Store for unique T-shirts, caps, housewares, baby gifts and more!
Other unique graphics include:
Shop for More Clown Gifts at the
All About Clowns Zazzle Store!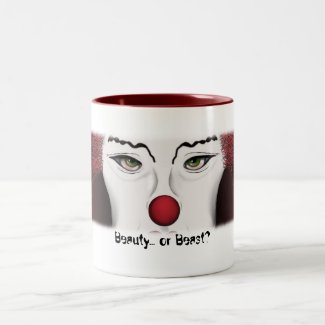 Beauty... or Beast?
by
lively2000
View Clown Mugs online at
zazzle
---
Return to top of Clown Store Page

Home Page