Emmett Kelly Sr "Weary Willie"
Emmett Kelly Sr (1898-1979) has left an indelible imprint on the art of clowning in America - and throughout the world. Emmett was a multi-talented performer both in and out of the circus ring..
---
Emmett Leo Kelly, Sr.

Weary Willie
Emmett Kelly Sr.
Circus Performer, Clown, Actor
Born in Sedan, Kansas
Best known as "Weary Willie"
Born: 12/09/1898
Died: 03/28/1979
Father: Thomas Kelly
Mother: Mollie Schimick
Sister: Sylvia Kelly

Married:
Eva Moore 07/23/23 Divorced 1935
Sons:
Emmett Kelly Jr.
Son: Joey Kelly (Grandson)
Thomas Patrick Kelly

Married:

Divorced
1945
Married:
Elvira "Evi" Gebhardt 04/20/1955
Daughters:
Stasia
Monika

---
Emmett "Weary Willie" Kelly Sr is an American icon in the world of circus and clowning. Named after the famous Irish patriot Robert Emmett, he was born in Sedan, Kansas where there is now a museum dedicated in his honor. When he was a child, Emmett's mother scraped together enough money to spend $1 apiece for 25 lessons in a correspondence course in cartooning. His talent and the skill derived from these lessons started him on his path to fame. "My ambition as a kid and a young man has been to be an artist", said Kelly. As a young man in Kansas City, Kelly worked as a cartoonist where he first drew the character we would all come to know "Weary Willie," the forlorn-looking tramp.
Emmett would hold various jobs throughout his life, each moving him closer to the fame that was awaiting him. He was a chalk-talk artist (although most of his stories were pantomimed) in Vaudeville theaters, a painter of carousels and circus wagons in early circus days, then a trapeze artist and both a Whiteface and a Tramp Clown for various circuses. He was a baseball mascot, an actor in Hollywood movies, a guest-star on various television variety shows, appeared in several television commercials and had roles in at least two Broadway productions.
Emmett Kelly, Sr. has been inducted into three Halls of Fame, and the town of Houston, MO, where Mr. Kelly spent most of his childhood, held the Emmett Kelly Festival annually (the first weekend of May) from 1991 through 2008. At this festival, his grandson, Joey Kelly, played the part of "Weary Willie."
Favorite Weary Willie Routines
One of Weary Willie's most famous routines was to try to no avail to shell a peanut. With much frustration in his pantomime fashion he would finally resort to crack the peanut with a sledgehammer. The result is mashing the peanut to a pulp and with great struggle he would try to pick up the tiny pieces of meat with his fingers to no satisfaction and to the roars of laughter from the audience. Weary Willie would be destined to go hungry and saunter off in frustration.
Sometimes he would get in a match with the floodlight spot on the ring floor. He would be seen trying to sweep up the light with his tattered broom. He would successfully get it to disappear under a mat or some other object only to have it suddenly appear again and chase him around.
Another favorite routine of Weary Willie's was to produce an elaborate set of blueprints. After much studying and drama Willy would bring out a hand saw and proceed to try and cut a board in half. In his usual fashion of nothing going correctly, his saw would get stuck, and with much frustration he would wander off very discouraged to the audiences humor.
Other performers saw attention he was getting and asked him to "wander" into their acts. One of Willie's well know antics was done during a nail biting, very dramatic low-wire act. Willie wandered in as the performer prepared for his daring feat and began hanging his laundry on the tight wire only to be chased off. Another time Willie came to the rescue of a bareback performer who had missed a flip on horseback. Willie took out his tattered broom and swept the back of the horse to make sure the performer would have sure footing on his next attempt. Often times Willie would wander into a scene only to be chased out again evoking laughs and applause from the smiling audiences.
1898: Emmett was born on December 9, in Sedan, KS to Thomas and Mollie Kelly. The family lived in a home owned by the Missouri-Pacific railroad, for which his father worked as a foreman, and his mother reportedly ran a boarding house.
1905: Thomas Kelly moved the family from Kansas to Houston, Missouri where he bought a home to start a new future and raise his family.
1917: Emmett Kelly, Sr. left home to begin a life on his own. He moved to Kansas City to pursue the dream of becoming an artist.
1918: Emmett took a job painting side boards and carnival kewpie dolls with Doc Grubs Western Show. Emmett joined this small dog and pony show, at their urging, where he operated a side show. Emmett applied his artistic skills with other circuses including the Knickerbocker Circus painting, among other things, circus wagons, merry-go-rounds, and signs. While working hard and saving money he bought his first trapeze rigging and taught himself the art of single trapeze.
1920: It was while working a side job as a cartoonist for a small silent movie/advertising company in Kansas City that Emmett Kelly Sr first sketched the character that would later become known as "Weary Willie".
1920: Emmett Kelly Sr took a job with Howe's Great London Circus as a trapeze performer with the understanding that he would also have to double as a whiteface clown.
1923: Emmett Kelly Sr was performing with John Robinson's Circus as a trapeze artist where he met his wife to be Eva Moore who also was a trapeze performer with her sister. Eva and Emmett eloped later that year and they worked hard together to develop and perform their own lightning fast double trapeze routine called the Aerial Kelly's.
1923: On November 13, Emmett Leo Kelly, Jr. was born - it was the day of the very last show of the John Robinson's Circus.
1930-ish: Emmett Kelly Sr. was part of a nightclub comedy team with Linn Sheldon, an entertainer and a radio/TV broadcaster.
Weary Willie
1933: Weary Willie the sad tramp clown came to life while Emmett Kelly Sr worked for the Hagenbeck-Wallace Circus. Quote from Emmett:"Weary Willie is very real to me. He is a man who has given up. The boat has gone and left him. The cards are stacked against him. He's content to make out with what he's got. He knows he'll go no further".
1935: Emmett Kelly Sr and Eva Moore-Kelly divorced. This was when Emmett stopped his trapeze performances and became Weary Willie full time.
1935: Emmett Kelly Sr as Weary Willie began working with Cole Brothers & Clyde Beatty Circus.
1937: Weary Willie made an appearance at the New York Hippodrome where the audiences loved him helping to bolster his career as a sad tramp clown.
1938: Emmett Kelly Sr as Weary Willie began working with Bertram Mills at the London Olympia Circus. The sad tramp clown, Weary Willie, from America was adorned by the British people. It was in Europe where Emmett mastered the art of pantomime and perfected his character.
In 1941 While still performing with Bertram Mills, Emmett caught the eye of John Ringling North who convinced Emmett to bring his Character to Ringling Brothers.
1942: Emmett Kelly, Sr. joined the Ringling Brothers and Barnum & Bailey Circus where he stayed through 1956. "Weary Willie" was the first clown who did not have a specific routine or performance that was required of other paid performers; he was not required to march with the line of other performers. "Weary Willie" had free run of the circus to mingle with the crowds, interact with other performer's shows (by invitation), and was pretty much a one-man show, improvising wherever and however he wished. He would often be caught mimicking other performer's routines, to the hysteria of the audience. The character Weary Willie used no speech and his silly antics often backfired, delighting the crowds.
Of his seasons with different circuses, Kelly once said, "You can troupe all over the world, and you can listen to applause in faraway places and you can read flattering publicity from hell to breakfast but, when you open with Ringling Brothers and Barnum & Bailey in Madison Square Garden, New York City, you have 'arrived.'"
Emmett Kelly, Sr.
'The Day the Clowns Cried'
1944: Emmett married Mildred Richey who also worked in circus. The marriage lasted only one year.
1944: 07/06/1944 The Hartford Fire. In Connecticut while performing an afternoon show with Ringling Brothers and Barnum & Bailey there was a tragic fire that killed approximately 168 people. There was also reported over 700 injuries. The unofficial audience count on that day was 6,800 plus. This day was later named "The Day the Clowns Cried." A newspaper picture shows Emmett in his sad tramp clown costume, walking with bucket of water. He expressed that by the time he reached the tent with the water, there was nothing that could be done.
1946: As "Weary Willie, Emmett appears in a short documentary called 'Here Comes the Circus'.
1949: Cecille DeMille began production of The Greatest Show on Earth with "Weary Willie" as a featured clown. This movie is to be released in 1952 and will go on to win the Academy Award for Best Picture.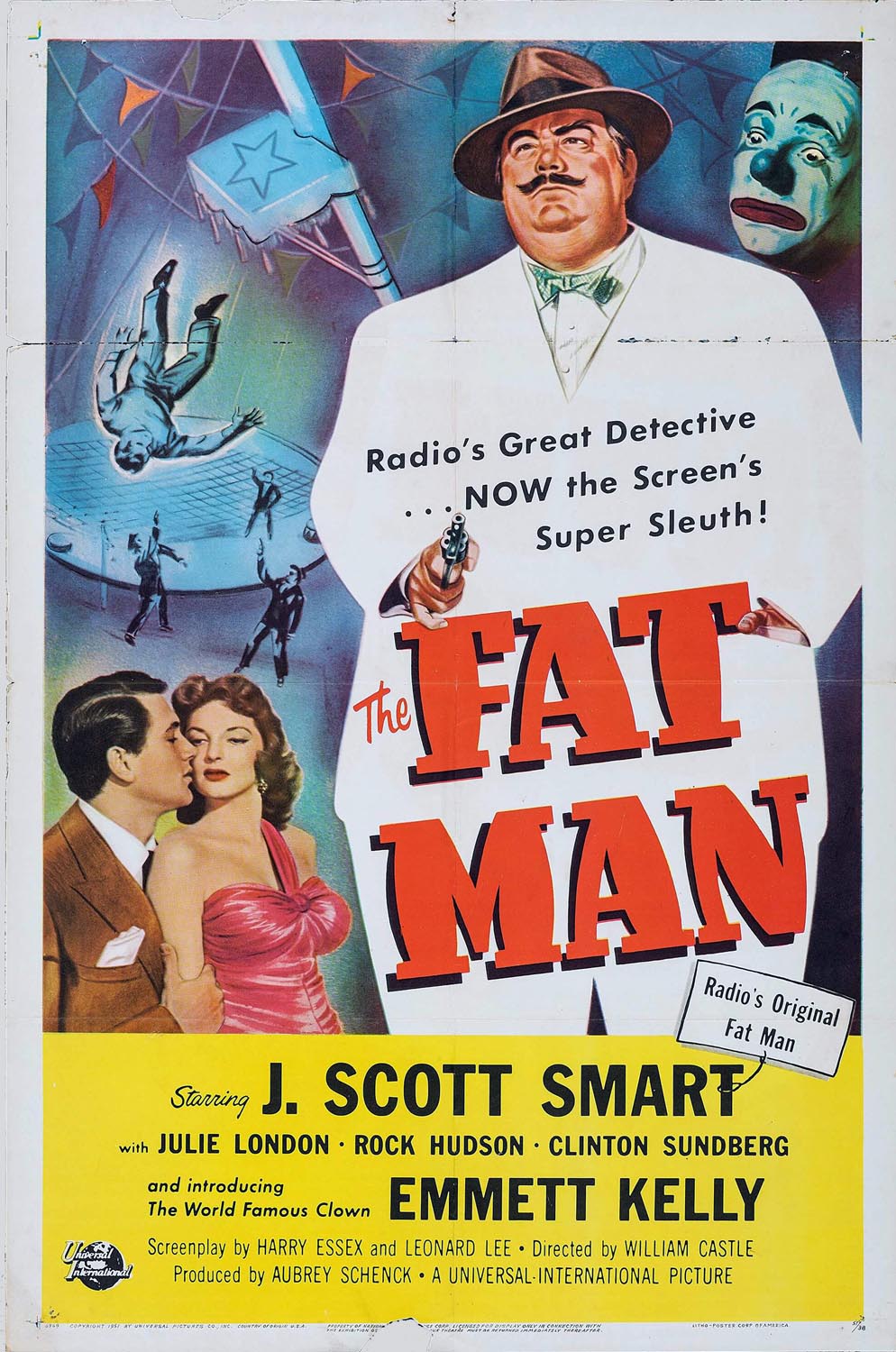 Emmett Kelly Sr as Ed Deets
1951: Co-starred in a movie titled Fat Man. Emmett would be a whiteface clown named Ed Deets who was a murderer. It is reported the producer originally wanted Emmett to play as a tramp, but with Emmett's insistence to keep this character unblemished was able to convince the producers to do the show in whiteface.
1954: The memoirs of Emmett Kelly Sr. were published in a book entitled "Clown," although he and "Weary Willie" would entertain thousands of people over the next 20+ years.
1954: Appears in a documentary entitled 'Person to Person'.
1955: Guest appearance on the 'Captain Kangaroo' show.
1955: Guest appearance on the'Ed Sullivan Show' as himself.
1955: Emmett Kelly Sr writes a mini-autobiography and appears as Weary Willie on the 'General Electric Theater'.
1955: 04/20/1955 Emmett marries Elvira "Evi" Gebhardt. This is Emmet's third and final marriage. Evi was a gymnast with The Whirlwinds, a well known acrobatic team, from Germany. Emmett and Evi had two daughters, Stasia and Monika.
Evi and Weary Willie
For the first time in his life, Emmett purchases a home and settles his new family in Sarasota, Florida.
1956: Emmett Kelly Sr has a guest appearance on the television show 'Telephone Time'.
1956: Emmett Kelly Sr is a guest for the second time on the Ed Sullivan Show.
1956: Emmett Kelly Sr leaves the Ringling Brothers and Barnum & Bailey Circus after 14 years.
He then becomes the mascot for the Brooklyn Dodgers for the season. Fans will lovingly remember the Sad Tramp Clown who wandered around the baseball diamond and grandstands performing his comedic genius. Fans came to know and love his antics that would often backfire on him: mimicking the players, being chased on and off the field, and cleaning his plate - home plate!
1956: Guest appearance as a circus clown on 'The NBC Comedy Hour'.
1956: Guest appearance on the family game show 'I've Got a Secret'.
1956: Emmett as "Weary Willie" appears as a mystery guest on a family game show called 'What's My Line?'.
1957: "Weary Willie" appears in 'Around the World in 90 Minutes', a show titled 'Playhouse 90'.
1957: Emmett Kelly, Sr. joins the Shrine Circus as Weary Willie.
1958: Emmett Kelly, Sr. has a role in a movie titled 'Wind Across the Everglades'.
1958: Guest appearance on the Bob Crosby Show.
1960: Emmett appears for the third time on the Ed Sullivan Show and for the first time as "Weary Willie."
1962: Emmett is the narrator for a show called 'The DuPont Show of the Week' featuring, among others, The Great Wallendas.
1967: Emmett Kelly Sr has a role in the movie titled 'The Clown and The Kids'.
Emmett Kelly Art
Emmett Kelly Art
1967: The Emmett Kelly Museum opens in Sedan Kansas to honor everybody's favorite Sad Tramp Clown. The museum is still open today where it displays, among other things, some of Mr. Kelly's cartoon sketches, many photo's, newspaper clippings, and circus posters.
1970: Guest appearance as Emmett Kelly Sr on the Carol Burnett show.
1976: Emmett Kelly Sr is in the Second Annual Comedy Awards.
1976: Second guest appearance on the Carol Burnett show.
1977: Guest appearance on the Bette Midler Show.
1978: Emmett Kelly Sr. and "Weary Willie" retire from circus life.
1979: On March 3rd, 1979 Emmett suffered a fatal heart attack on the front lawn of his home in Sarasota, Florida. He was 80 years old. This was the opening day of the 109th Edition of The Greatest Show On Earth at Madison Square Garden.
In Loving Memory
Emmett Kelly, Sr. was laid to rest at the Rest Haven Memorial Park in Lafayette, Indiana where family members lived. "I haven't had a stationary home since going with the circus" Kelly was quoted as saying, "but, since my parents lived in Lafayette about 25 years ago and my sister lives here now, I always claim it as home."
Emmett Kelly, Sr. had a lifelong friend in Red Skelton. Prior to Emmett's death, he and Red were working on a new routine together. Upon Emmett's death Red Skelton remarked, "I guess those in Heaven needed a laugh." Emmett was also working on a documentary to showcase his famous routines.
Famous Missourians
During Emmett Kelly's life he performed for royalty of the likes of Queen Elizabeth, Queen of Spain, Duke and Dutchess of Glouchester, the Prince of Whales, the Emperor of Ethiopia, Winston Churchill, and President Harry Truman, just to name a few.
Emmett Kelly Sr will always be remembered as one of the greatest American Clowns. His signature tattered costume in the character of the sad-faced tramp captured American and European hearts with the simplicity and humility of his character. Emmett said, "By laughing at me, the audience really laughs at themselves and realizing they have done this gives them sort of a spiritual second wind for going back into the battles of life."
1989: Inducted into the Clown Hall of Fame.
1994: Inducted into the Circus Hall of Fame.
1996: Inducted into the Hall of Famous Missourians.
---
---